Chalk In the News
missjessiqueen Aug 28 Atlanta Artist ,Chalk Art Festival ,DESIGN Comments off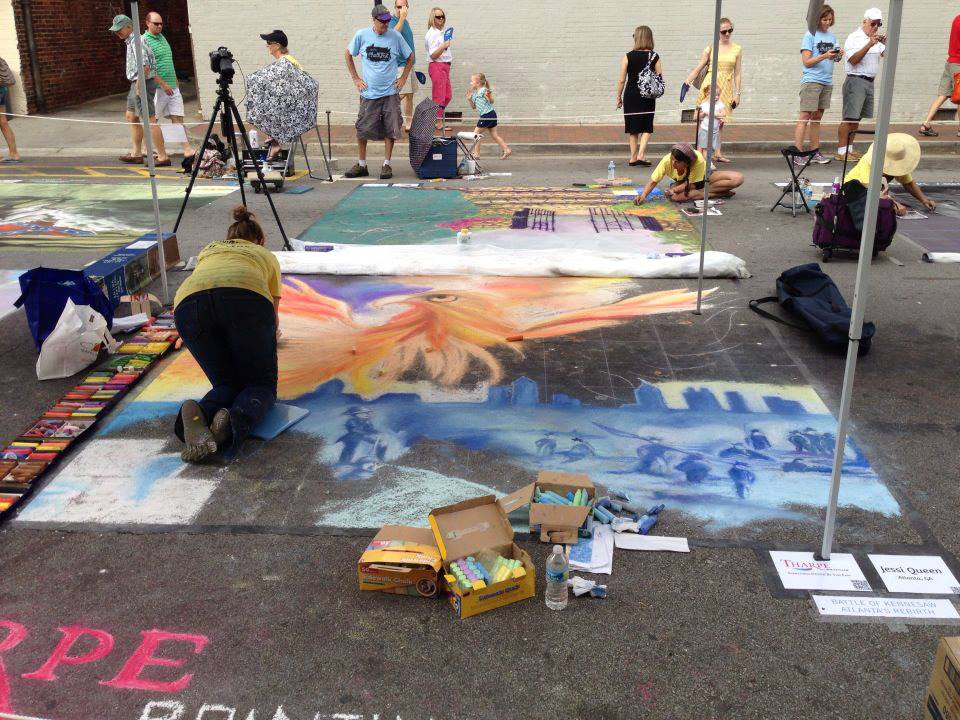 Passion for chalk art was instilled at an early age. As just a high schooler in 2007, I became a chalk artist when I first drew on the sidewalk at the annual SCAD Street Art Festival. I enjoyed all the talent and the fast paced nature of the event. I was privileged to attend art high school Savannah Arts Academy and received extensive training in the visual arts. The program prepared me to attend an art college.
Growing up in Savannah, the influence was all around me. I had dreams of attending SCAD and eventually made those a reality at the Atlanta campus. I traveled back to Savannah each year to participate in the festival. I still do now as an alumni.
In 2011 I took my skills to the streets chalking for local businesses such as The Melting Pot. Zach Herndon and I would chalk for charity events every weekend. We would create large 20-40 ft drawings. Each one had a theatrical theme for the dinner and show. We enjoyed putting the talent to use in this way. All I wanted to do was chalk more. I applied to chalk at the Marietta Chalk Festival hosted by the Marietta Cobb Museum of Art. I was super excited for the opportunity.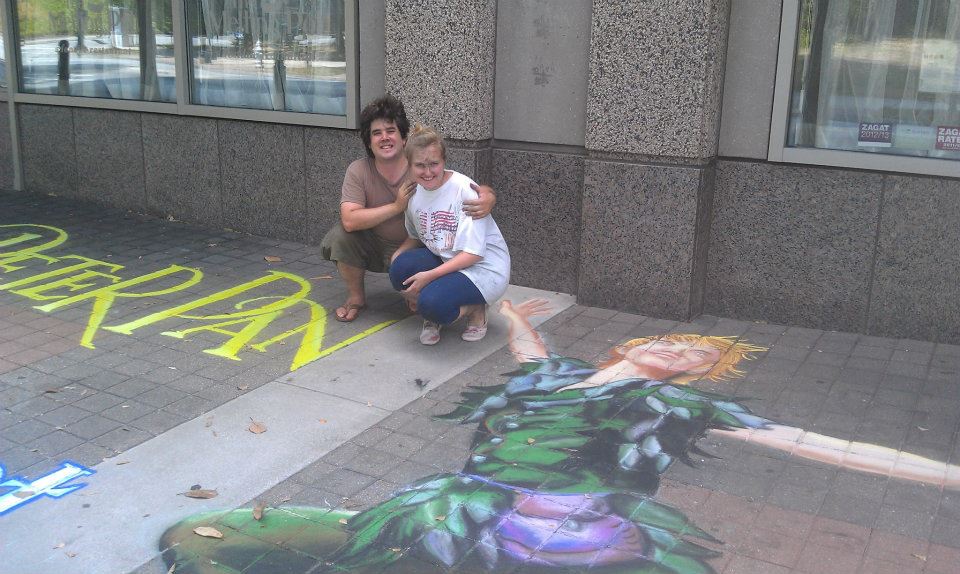 I was interviewed by the AJC in preparation for the Marietta Chalk Festival coming up this weekend. Here is a snippet from the article by Jon Waterhouse:
Q: What do you like best about chalk art?
A: I like being outdoors and working with an environment rather than just inside in a studio. It's a lot nicer to be able to share my art and get the exposure and share it with other people. The chalk pastel medium has always been my preference. It's fun to blend, easy to work with and your hands get dirty.
Q: What's your favorite part of the process?
A: It's kind of a rush knowing that I have this certain amount of time that I need to get this art piece done before it rains or whatever. If it rains, I can come back and do it again. There's this one piece that I did that was for the Melting Pot restaurant on Peachtree Street. They commissioned me to do one for the "Mamma Mia" show at the Fox (Theatre). They have a charity where they have kids come, eat dinner and go to a show at the Fox, so I would draw for that. The "Mamma Mia" one washed away, so I had to come back the next day and draw it again. Each time I drew it, it was a little bit different.
Q: What are you going to be drawing this weekend?
A: I'm drawing a Civil War scene about Kennesaw Mountain. It's kind of complicated, so you're going to have to come out and see it. It's going to be an Atlanta scene, and I'm going to have a phoenix coming out of the flames, so it's going to be symbolic as well as visual.
---
Marietta Chalk Festival August 30, 2013
I went to the chalk festival expecting it to be small like the one in Savannah but it was so much bigger with professional chalk artists from all over the southeast US. I quickly realized that I was in over my head but it only fueled my passion. I learned that people travel for chalk art and made that my goal. This was only the beginning.
The event rained out but I enjoyed chalking with so many talented people and getting introduced to this chalk world. I plan to continue to grow as an artist and chalk every chance I get.